The Mercedes Riada Sprinter is the fastest and most agile luxury mini coach in its category. The passenger cabin is appointed with plush leather high back reclining seats, all fitted with three-point seatbelts, courier seat, interior fitted tables, tinted windows with curtains and pelmets, P.A. system, air conditioning and a long list of entertainment and luggage space opinions.
For small business meetings, family getaways or any other travels ideas that you may have, the Riada Sprinter is the coach of choice for any destination in total comfort.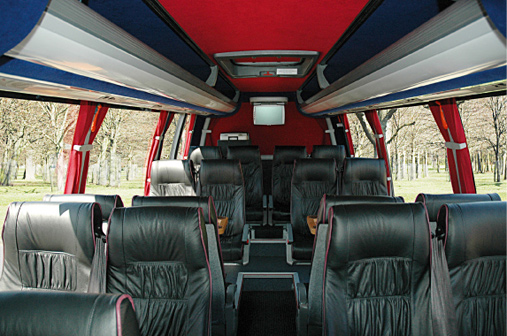 At McCaffrey Coaches we pride ourselves on providing our clients with the most luxurious journeys possible. To this end, we have outfitted our top-of-the-range coach, the Mercedes Riada Sprinter, with the top-of-the-range materials, facilities and in-coach audio and visual systems.
No expense has been spared to bring you to your destination in the most comfortable and pleasurable surroundings.