This is the first coach to be imported into Ireland with the new state-of-the-art ZF-AS Tronic Transmission. The Iveco Irisbus Aura Eurorider is the pinnacle of luxury and engineering for large capacity coaches.
The 52-seater, highly spacious interior is without question the best option for large group tours. Stress free relaxation coupled with beautiful surroundings. The Eurorider's long distance capabilities allow for non-stop touring with pace and ease. The state-of-the-art entertainment system on board will further enhance your touring experience. The Iveco Irisbus Aura Eurorider has created a first class standard second to none.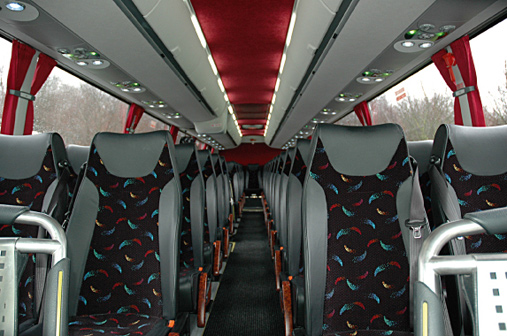 At McCaffrey Coaches we pride ourselves on providing our clients with the most luxurious journeys possible. To this end, we have outfitted our top-of-the-range coach, the Iveco Irisbus Aura Eurorider, with the top-of-the-range materials, facilities and in-coach audio and visual systems.
No expense has been spared to bring you to your destination in the most comfortable and pleasurable surroundings.