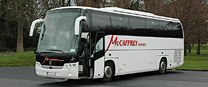 Welcome to the touring world of McCaffrey Coaches. Your escort to the world of luxury coach touring. A tour de force in corporate, leisure and executive travel since 1996.
McCaffrey Coaches provides an unrivalled luxury coach touring service within the coach touring industry.
Managing Director Des McCaffrey
McCaffrey Coaches started with the premise that it could bring a new level of service and actually create a national standard, in ways that no one had thought possible in the luxury coach touring industry. The result was an innovative approach and service that allowed corporate, executive and domestic groups and parties secure travel arrangements and transportation with unquestionable accuracy and diligence.